Menu - Bull Island
Menu - Bull Island
Granola
Happy Out's Homemade Granola with Yoghurt and Honey.
Overnight Oats
Jumbo Oats soaked in Oat milk and apple juice served with seeds and mixed berries.
Breakfast Bap
A beautiful bap with a gooey egg, bacon and Ballymaloe relish. (Wknds Only)
Pastries
Baked fresh every morning by Tartine Organic Bakery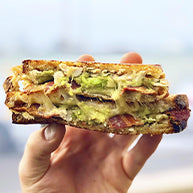 Clucking Unbelievable
Sun-dried tomato & basil pesto, shredded chicken, smash avocado, crispy bacon, topped with our three cheese mix.
Hamazing
Baked ham with a bit of mayo and our three cheese mix smothered on top!
Stay Tuna'd
Tuna mixed with red onion, sweetcorn and mayo, our three cheese mix melted on top and fresh rocket added after melting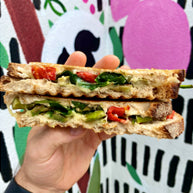 Asparagorgeous
A cream cheese base with our roasted mix of asparagus, mushrooms, red peppers and spinach and a sprinkling of the lovely three cheese mix on top.
Vegan option: smash avocado instead of any cheese.
Easy Cheesey
A simple cheese toastie with our tasty three cheese mix
Kids Toastie
Smaller sized sourdough bread with your kids combination of ham, cheese, tuna or chicken
Additional €1 for chicken
Guest Espresso Option + 30c
(Coke, Coke Zero, 7up, 7up Free & Fanta)
Fruice Apple & Orange Juice
€2.15