Menu - Donnybrook
Menu - Donnybrook
Breakfast Pots
All made in house and topped beautifully with honey, fresh berries and coconut bits.
Choose from: Granola / Overnight Oats / Porridge

Breakfast Bap
A beautiful bap with a gooey egg, bacon and Ballymaloe relish.
Add Black pudding + €1 / Avocado + €1
Scrambled Egg Pot
Soft scrambled eggs with toppings of your choice… A delicious take away breakfast!
Add: Chorizo €2 / Bacon €2 / Black pudding €1.50 Avocado €1.50 / Hot Sauce 50c / Feta €1 / Pesto €1
Avocado toast
Fresh smashed avocado on Tartine organic sourdough toast with our new Achiote Aioli spread on the plate.
Add Bacon €2.50 / Black pudding €2 / Chorizo €2.50 Hot Sauce 50c / Feta €2 / Pesto €1
Turkish Eggs
Lemony yoghurt, charred tender stem broccoli, cherry tomatoes, two poached eggs and 137 Chilli Oil drizzled on top!
Add Chorizo + €2.50
Pastries
Baked fresh every morning by Tartine Organic Bakery!
Hamazing
Baked ham with a bit of mayo and our three cheese mix smothered on top!
Stay Tuna'd
Tuna mixed with red onion, sweetcorn and mayo, our three cheese mix melted on top and fresh rocket added after melting.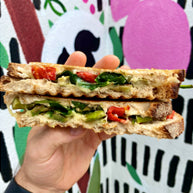 Asparagorgeous
A cream cheese base with our roasted mix of asparagus, mushrooms, red peppers and spinach and a sprinkling of the lovely three cheese mix on top.
Vegan option: smash avocado instead of any cheese. Try it with chipotle sauce and bacon + €1.50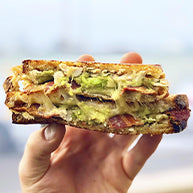 Clucking Unbelievable
Sun-dried tomato & basil pesto, shredded chicken, smash avocado, crispy bacon, topped with our three cheese mix.
Easy Cheesey
A simple cheese toastie with our tasty three cheese mix
Add Pesto/Hot Sauce/Red Onion +50c each / Add Avocado €1
Kids Toastie
Smaller sized sourdough bread with your kids combination of ham, cheese, tuna or chicken (additional €1 for chicken)
Guest Espresso Option + 30c
Guayusa Tea (Pure or Mint)
€2.50
Cano Still/Sparkling Water
€1.50
(Coke, Coke Zero, 7up, 7up Free & Fanta)
(Lemon, Orange, Blood orange)
Juiceboxx Cold press Juice
€5.00
(Green Dream, Sweet & Spicy, Hummer)
(Raspberry; Apple & Dandelion)
Fruice Apple & Orange Juice
€2.00